Recipes on Social Media
See the latest recipes from our social media posts here! Explore other delicious recipes and our great variety of Tropical products with the authentic flavors of Latin America and the Caribbean.
More Recipes
Get inspired with more recipes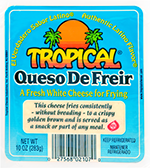 A Tropical favorite! This cheese doesn't melt when heated, so you can deep-fry it, pan-sear it or grill it. It will be golden and crispy on the outside and soft on the inside. And it's keto friendly!
Try these recipes!